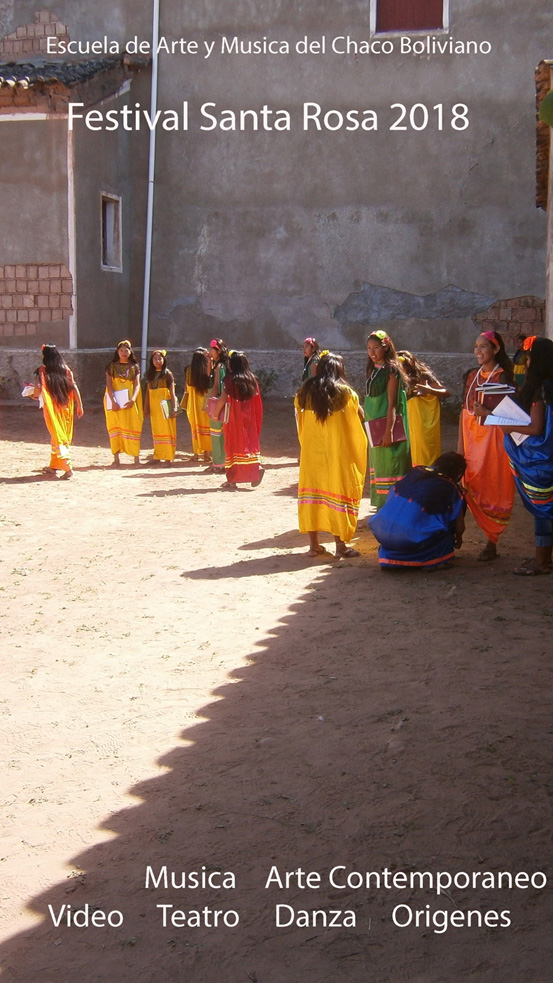 Beloved everyone, scattered on every continent, we ask you to help us carry on this dream.
S. Rosa is an extraordinary XIX century mission in southeastern Bolivia. The Franciscans founded this Mission to help the originary people (Guarani) to develop their own culture and for this reason they established a School of Art and Music.After 150 years, Mimmo Roselli (Visual Arts, www.mimmoroselli.net) and P.Tarcisio Ciabatti (Franciscan Friar) founded in 2007 a basic art and music school in 3 indigenous villages of the area, including S. Rosa.
They sought funds to restore the Mission and decided an opening in 2016 with a fantastic event, the Santa Rosa 2016 Festival, which was to propose the Santa Rosa office to become a High School of Art and Music and so are going.
During the 3 weeks of the Residency and the 3 days of festival, the invited artists have been able to work with the alumni of the School and with the people of the village in a work-shop in art, where the philosophy, that will always be maintained, is that "you can do art with everything. "
For further information, please visit: www.santarosadecuevo.org (the site is not update to 2018)For the coming year, Santa Rosa 2018, philosophy does not change, but, during the Residency, on this next occasion, musicians will work together with visual artists and prepare one work toghether  to be presented in the exhibition of Contemporary Art; we will continue with theater and concerts, we will add dance, video-film production and more.
The Residency provides for work with pupils and locals in the afternoon, while in the morning is busy performing the works for the Festiva.The "Salud sin frontera" Association was created by a group of Infectious Diseases  University doctors in Florence, part of which is to promote health in South-eastern Bolivia, in its entirety and therefore not only in the body but also in the mind, through the cultural development of those peoples
We ask you to contribute with a minimum of 25 Euros or 30 Dollars; with this you will support the School with the realization of the Festival and a movie, which you can access through a dedicated FTTP address with which to download the work in HD.
In order to subscribe to the financing campaign, you must make a transfer of the amount shown on the "Salud Sin Fronteras Association" account at the Banca Prossima, via Bufalini 4, 50122 Florence with the cause " Santa Rosa Festival 2018″
IBAN: IT49E0335901600100000007429
Bic Code / SWIFT: BCITITMX
or through Pay Pal: santarosafestival@hotmail.com
Once you have made the transfer, we kindly ask you to send a copy of your payment receipt together with the details necessary to send you the download of the movie at the following email address: santarosafestival@hotmail.com